Time tracking & billing software tools to easily capture all your time
Where did all my time go?  With the time tracking and billing software  tools you can easily track all your time efficiently.  Accurately tracking time can increase your revenue by as much as 35%!  
Let us show you how.
* No Credit Card      * Sign Up & Sign In
Time Tracking & Billing Software for Businesses that Value Time
Stop giving away time! Start tracking time efficiently and accurately.
Timers
Create multiple timers that can be started/stopped.  Great for phone calls and starting a task to accurately record your time.
Weekly Time Card
Quickly enter time for clients over multiple days with less entry.  See the entire week at a glance.
Batch Time Entry
Spreadsheet type entry to key in multiple time records by User.  Expedites putting in multiple time records.
Pop-Up Time Entry
No matter where you are at in the application you can quickly add a time record with Pop-Up Time Entry
Quickly Capture Time with Timers
Start and Stop as many timers as needed.  Easily pause and edit time if necessary.  When finished with time tracking, simply convert the timer to a time record.
Start Timers From Anywhere
No matter where you're at a timer can be started so that you never miss recording time again!
Quickly See Your Weekly Time at a Glance
Need to add time or modify time, no problem!  Just enter your time directly in the day and add a work description.  A popup dialog allows you to enter a work description or private description.
Efficient & Easy Time Entry
Great for entering time for the same client over multiple days of the week!
Add Time From Anywhere
No matter where you're at in the application you can always pop-up the Add Time Entry dialog to quickly create a time record.  Editing time records is just as easy!
Quick Time Entry
Shortcuts can be used in the Work Description or Private Memo to speed up data entry dramatically.  You create the shortcut and description, select from the drop-down list and your description is pasted into the description.
Simple and Effective Ways to Accurately Track Time
Time is money.  Lost time means lost revenue!  Easily review daily and weekly time sheets for accountability.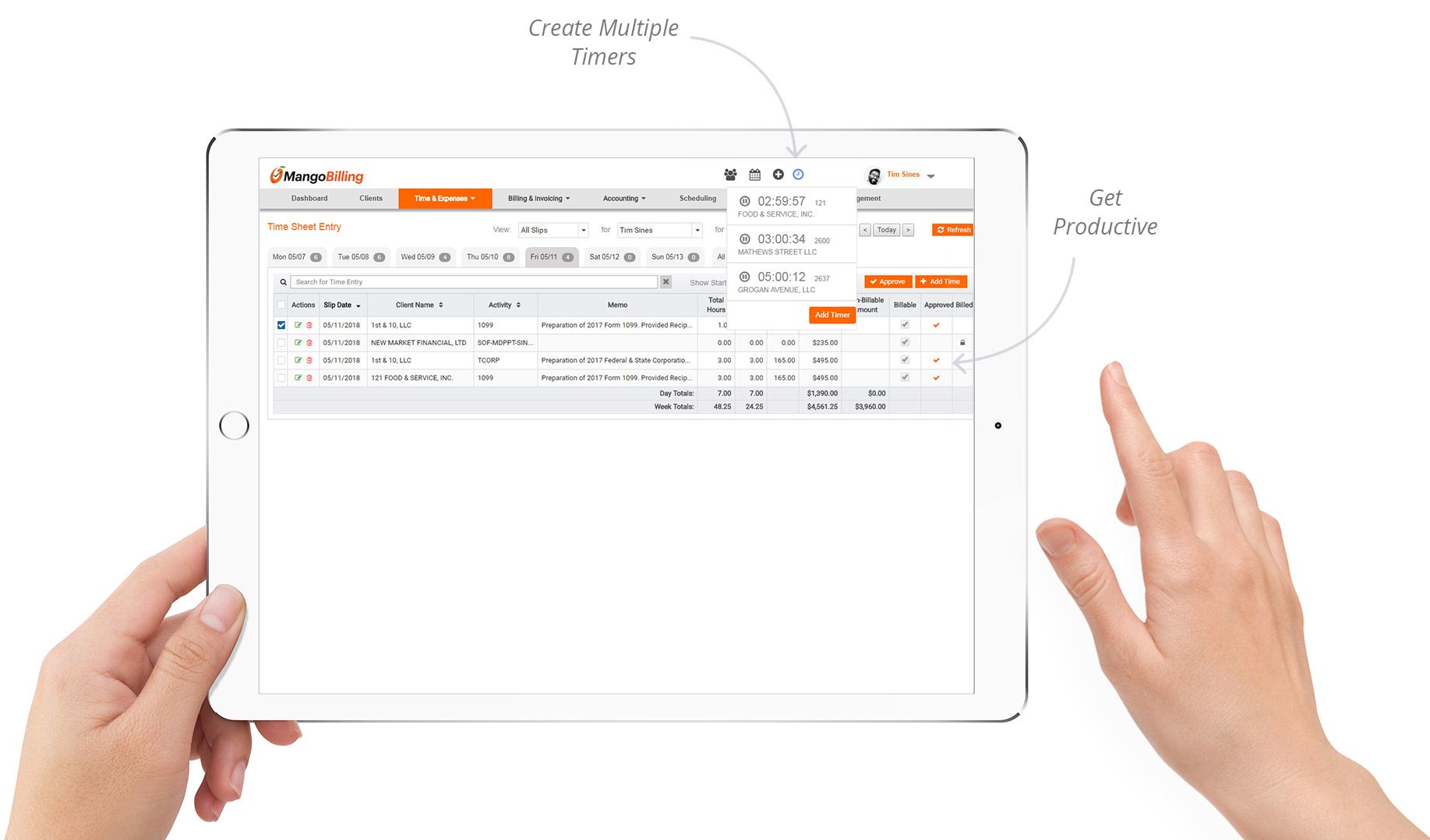 Powerful Time-Tracking and Billing Software!
Try Mango Billing For Free.  No Commitment, No Hassle, No Credt Card Required.

2019 Mango Billing, Inc. "Mango Billing" is a registered trademark.